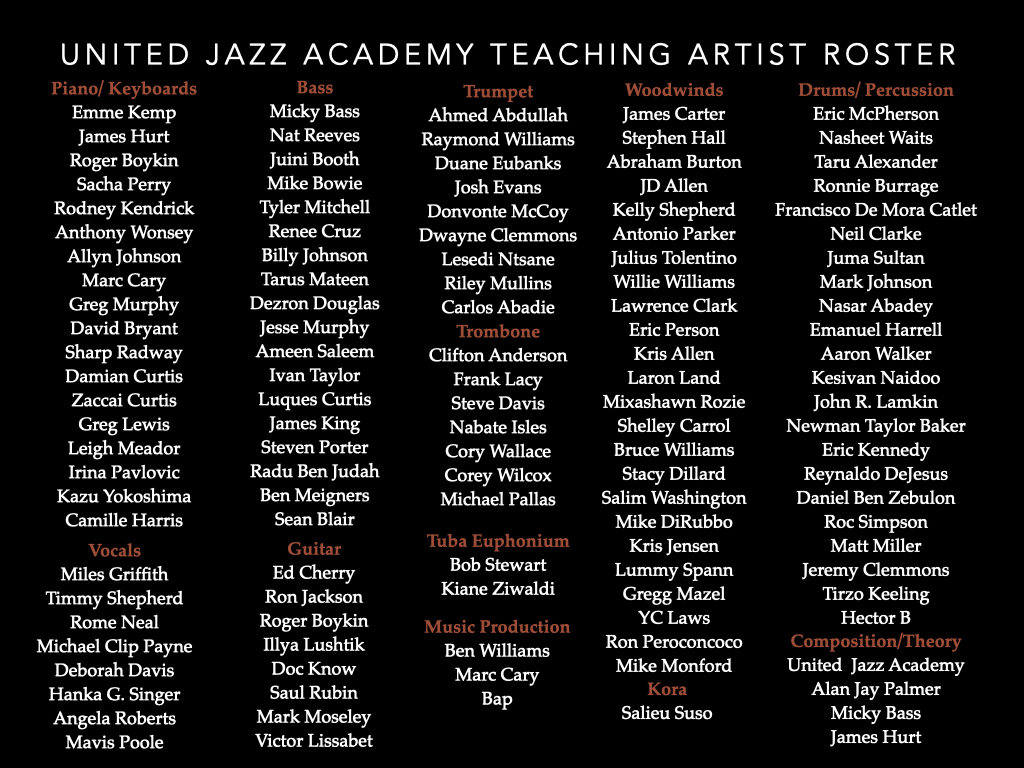 United Jazz Academy Teaching Artists Roster
The United Jazz Academy Pro Mentorship Lessons allows students the opportunity to study privately with one or more of the greatest Jazz Masters and Teaching Artists on the planet. Just look through our teaching artist roster and you will find not only the top names in the music industry but experienced teachers that have the knowledge, and care to mentor you successfully through your music journey. Learn from the Masters that have been there and done that and are ready to share their secrets with their chosen students! Having the right teachers/mentors to guide you is priceless and a relationship that lasts a lifetime!
Choose from any of our top Professional Teaching Artists for your private teacher(s)
(Teaching Artist roster and availability subject to change)
Your intake form has been submitted. Check your email for a copy of your responses. If you're accepted, you'll receive an email with a link to checkout.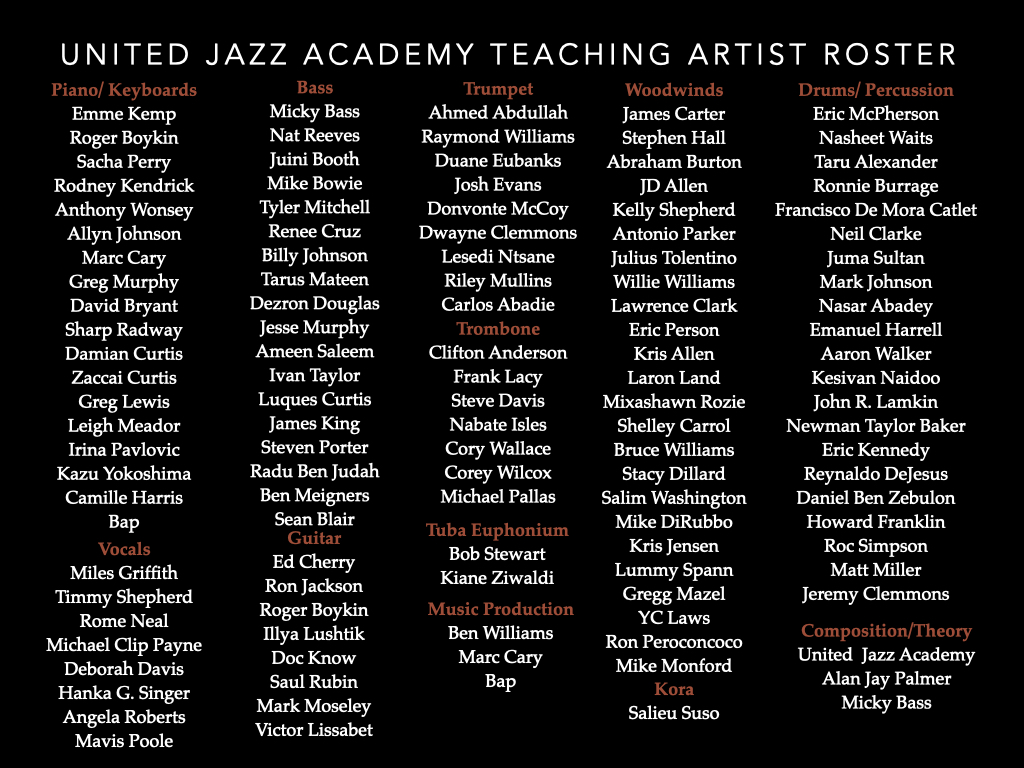 The United Jazz Academy
Pro Mentorship Program.
Choose to study privately with any of our professional top teaching artists.
Piano/ Keyboards
James Hurt
Emme Kemp
Roger Boykin
Sacha Perry
Rodney Kendrick
Anthony Wonsey 
Allyn Johnson
Marc Cary
Greg Murphy
David Bryant
Sharp Radway
Damian Curtis
Zaccai Curtis
Greg Lewis
Leigh Meador
Irina Pavlovic
Kazu Yokoshima
Camille Harris
Bap
Bass
Micky Bass
Nat Reeves
Juini Booth
Mike Bowie
Tyler Mitchell
Renee Cruz
Billy Johnson
Tarus Mateen
Dezron Douglas
Jesse Murphy
Ameen Saleem
Ivan Taylor
Luques Curtis
James King
Steven Porter
Radu Ben Judah
Ben Meigners
Sean Blair
Woodwinds
James Carter 
Stephen Hall 
Abraham Burton
JD Allen 
Kelly Shepherd
Antonio Parker
Julius Tolentino
Willie Williams
Lawrence Clark
Eric Person
Kris Allen
Laron Land
Mixashawn Rozie
Shelley Carrol
Bruce Williams
Stacy Dillard
Salim Washington
Mike DiRubbo
Kris Jensen
Lummy Spann
Gregg Mazel
YC Laws
Ron Peroncoco
Mike Monford
Drums/ Percussion
Eric McPherson
Nasheet Waits
Taru Alexander
Ronnie Burrage
Francisco De Mora Catlet
Neil Clarke
Juma Sultan
Mark Johnson
Nasar Abadey
Emanuel Harrell
Aaron Walker
Kesivan Naidoo
John R. Lamkin
Newman Taylor Baker
Eric Kennedy
Reynaldo DeJesus
Daniel Ben Zebulon
Roc Simpson
Matt Miller
Jeremy Clemmons
Tirzo Keeling
Hector B
Trumpet
Ahmed Abdullah
Raymond Williams
Duane Eubanks
Josh Evans
Donvonte McCoy
Dwayne Clemmons
Lesedi Ntsane
Riley Mullins 
Carlos Abadie
 Trombone
Clifton Anderson
Frank Lacy
Steve Davis
Nabate Isles
Cory Wallace
Corey Wilcox
Michael Pallas
Guitar
Ed Cherry
Ron Jackson
Roger Boykin
Illya Lushtik
Doc Know
Saul Rubin
Mark Moseley
Victor Lissabet
Kora
Music Production
Ben Williams
Marc Cary
Bap
Mista Sinista
Vocals
Miles Griffith 
Timmy Shepherd
Rome Neal
Michael Clip Payne
Deborah Davis
Hanka G. Singer
Angela Roberts
Mavis Poole
Frequently Asked Questions
Can I get a refund if I'm unhappy with my lessons?
If you are unsatisfied with your private lessons, or have problems or a lack of affinity with your chosen teacher, please reach out to us to see if your purchase is eligible for a refund.
How do I schedule my appointment
Upon purchasing Pro Mentorship Lessons, you'll receive further instructions on how to book a time for your appointment. And an email confirmation of Teacher acceptance with necessary information for direct contact. There is no time limit to fulfill the private lesson(s) and scheduling must be done by the Teacher and Student.
Can I purchase more than once Personal Mentor/Teacher?
Absolutely! If you find yourself in need of more than one teacher, you may either specify that in the request form or purchase Pro Lessons again and request more teachers!